Good afternoon. Recently we asked families to complete a survey regarding their transportation needs. As a follow-up, a Student Transportation Verification/Change Form for each student is being mailed home today. In order to get them out in as timely a manner as possible, separate forms were mailed for each student, so for families with multiple children enrolled in our schools please forgive the overload. If you need to make changes to the information or you require transportation for one or more of your children to and/or from a location other than your residence, please return the form as soon as possible so we can determine whether or not we can accommodate the request. If no changes are necessary, we ask that you please return the form at your earliest convenience. Best regards, Amy Kukenberger

SCHOOL CLOSED Tuesday, April 19, 2022.

This morning the Ruggles Essay Competition was held in which several students presented their essay to their peers. Finalists will present for two different assemblies, they are: Top Left: Maralina Furlan, Wyatt Joseph, Fred Hodgson, Oli Wasson, Malachi Sciallo, Izzy Martz Bottom Left: Braeden Victory, Robyn Kafafian, Elena, Meckle, Anne Walker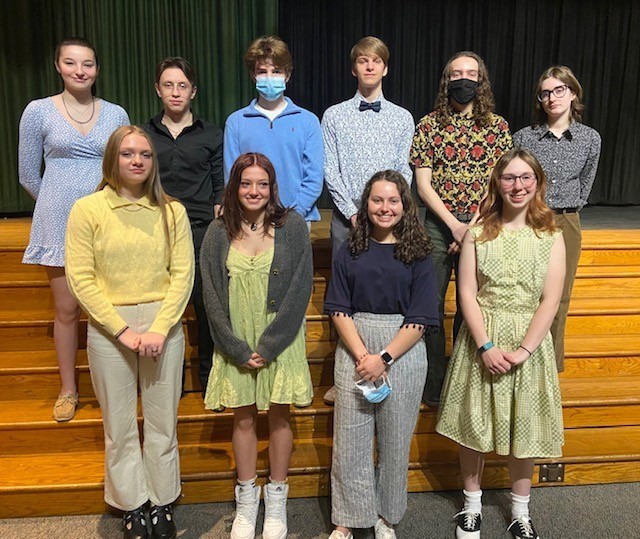 Tonight's choral concert for all of the 4-12 choral students, will be available through a Zoom broadcast on a Youtube channel beginning at 7:00 pm. Join Zoom Meeting
https://E2CCB-GST.zoom.us/j/95142511949?pwd=di9tSGFZblRObW5ac056N1N4clNldz09
Meeting ID: 951 4251 1949 Passcode: 373262 One tap mobile +16468769923,,95142511949# US (New York) +16465189805,,95142511949# US (New York)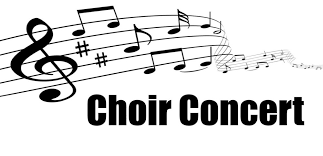 The Cooperstown Music Department is thrilled to present a district-wide band concert featuring band students in grades 5-12 on Wednesday, March 23rd at 7pm in the Sterling Auditorium at the Cooperstown Jr/Sr High School! Our theme this year is "A Night at the Movies". All three bands will perform and the concert will culminate with an iconic movie theme performed by all three bands together! We ask that audience members sit in family groups and leave a seat between family groups to stay in alignment with our current COVID prevention guidelines. If you have any questions, you may email Kerri Hogle (
khogle@cooperstowncs.org
).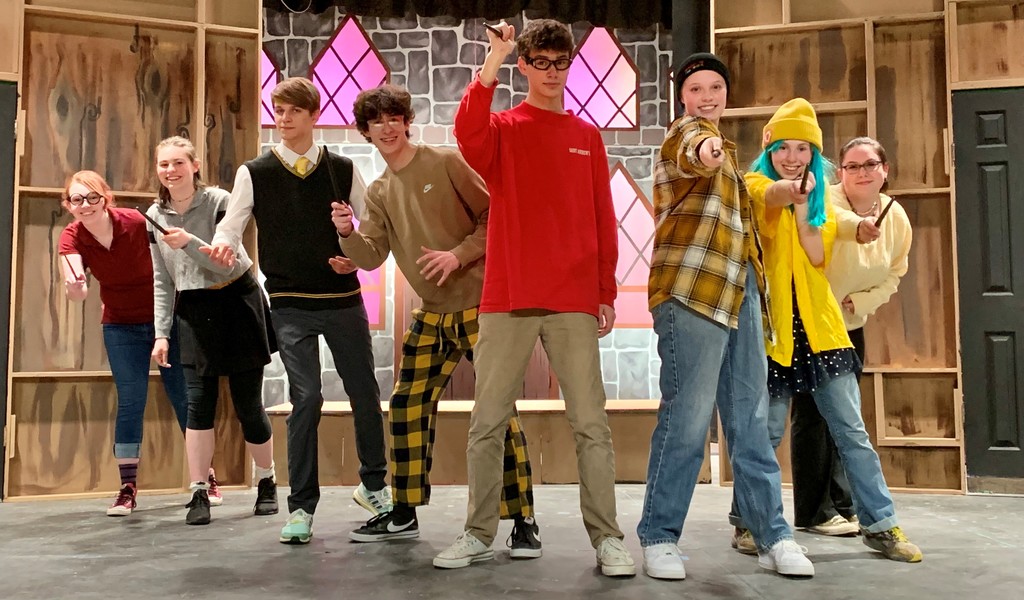 REMINDER: The Student-Athlete and Family Informational night for spring sports will take place tonight at 6pm in the Jr/Sr. High School Sterling Auditorium. Students and Parents will have the opportunity to learn more about the sport, meet the coaches and other members of the team.

SAT College Admission Exam CANCELLED for March 12, 2022.
February 4, 2022 Due to inclement weather, school is canceled on Friday, February 4, 2022.
February 3, 2022 Due to inclement weather, all afterschool activities are canceled on Thursday, February 3, 2022. All students will be dismissed at the end of the academic day.
CCSD continues to require masks for all students, staff, and visitors. The hearing deadline set by the Appellate Division, pertained only to written submissions. We anticipate a further ruling in the coming weeks. Until such time, the mask rule remains in effect.
The Appellate Division confirmed the lower court's decision regarding the mask mandate. Therefore, the mask mandate is temporarily stayed pending further proceedings through at least January 28, 2022. CCSD will continue to require masks for all students, staff, and visitors.


To the Cooperstown Community, We want to take a moment to thank everyone for supporting the school in meeting its goal to remain open for in person instruction this fall. We hope that each of you take the time to rest; relax and rejuvenate over break. We look forward to seeing everyone in 2022 on January 3rd. Happy Holidays, Sarah Spross

PTA Fundraiser orders arrive today, Wednesday December 22 around 2:00pm. We will be sending all orders home with the students as is feasible. If your child has a large order, please make arrangements to pick up your order at the Elementary school between 3 and 5pm. Due to the short notice, if you have a large order and cannot make it to the elementary school pick up tomorrow between 3 and 5pm, please email Heidi Geisz or PM us on the PTA FB page to make other arrangements for your goods. Thank you for your patience! Wishing all of you and your families peace and laughter over the holiday break and a happy new year!! Cheers, Heidi and Kristen PTA Co-Presidents

Cooperstown Junior-Senior High School will be holding its December Concert, tonight, December 15 at 7:00 pm and will be livestreamed for members of the educational community. Please join us in celebrating the students' accomplishments. Join Zoom Meeting
https://E2CCB-GST.zoom.us/j/94063391201

A reminder that Tuesday, December 14, 2021, is the Capital Improvement Project Vote. This project will complete the renovations to the 1954 Elementary School Gym, and potential reconstruction of the sidewalk between the Elementary School and Junior/Senior High School. Anyone 18 years of age living within the school district is encouraged to vote. Polls are open 11:00 am until 8 pm in JSHS Auditorium. Your Vote Matters. Thank you.

This message is to notify all parents and staff that the threat has been lifted. We have been notified that the threat was contained and was located towards the greater Binghamton area. The preparation for a lockout began after Dr. Huber, District Superintendent of ONC BOCES, received a call from Otsego County Sheriff's Department about a social media threat of firearm activity that was to happen at 12:15pm. It was learned that the threat originated in Chenango County and that other counties had received similar threats. In response to that threat Cooperstown, and the majority of schools in our area decided to move to a lockout. A lockout means that all doors are to remain locked, nobody may enter the building, and that no outdoor activities on campus may occur. Activities in the building resumed as usual. This is not the same as a lockdown in which students are kept in their classrooms. However, out of an abundance of caution, we will remain in a lockout and all after-school activities are cancelled

On December 14, 2021, Cooperstown Central School District residents will vote on a proposition in a public referendum. The proposition is for completion of renovations to the 1954 Elementary School gym, and potential reconstruction of the sidewalk between the Elementary School and Junior-Senior High School. The capital project is a revision of the original proposal resoundingly passed in 2019, with the adjusted scope and construction cost requiring an increase in funds.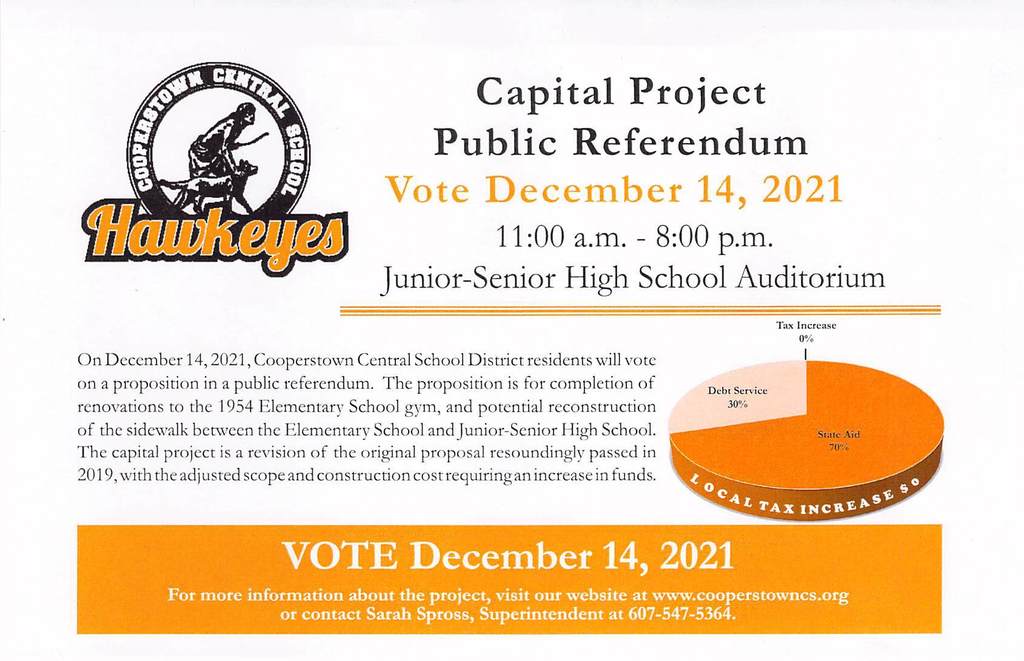 A reminder of the Public Information Meeting tonight at 6:00 pm, about the Capital Project referendum, in the Elementary School Library.