Jr. - Sr. High School Menu Board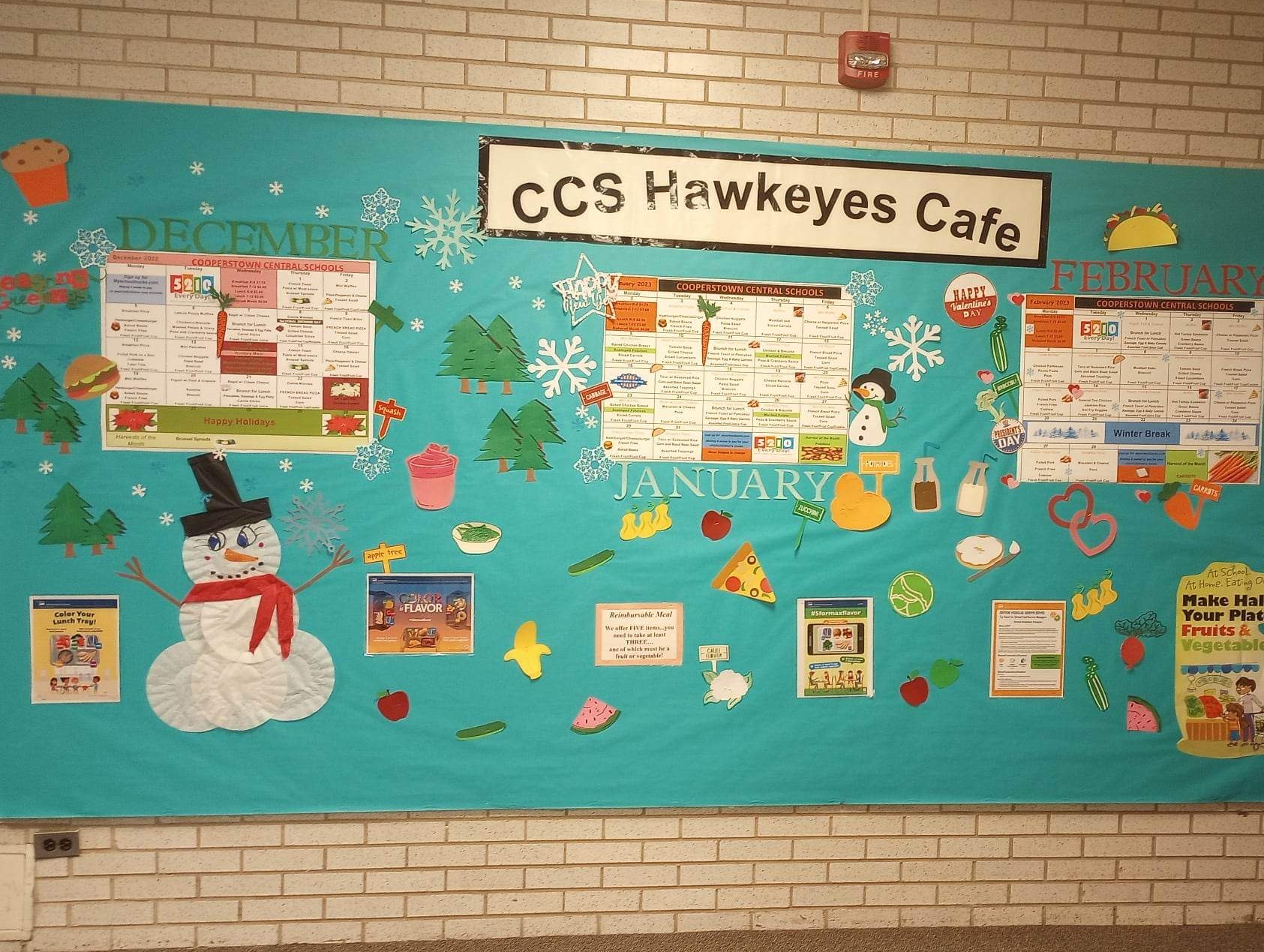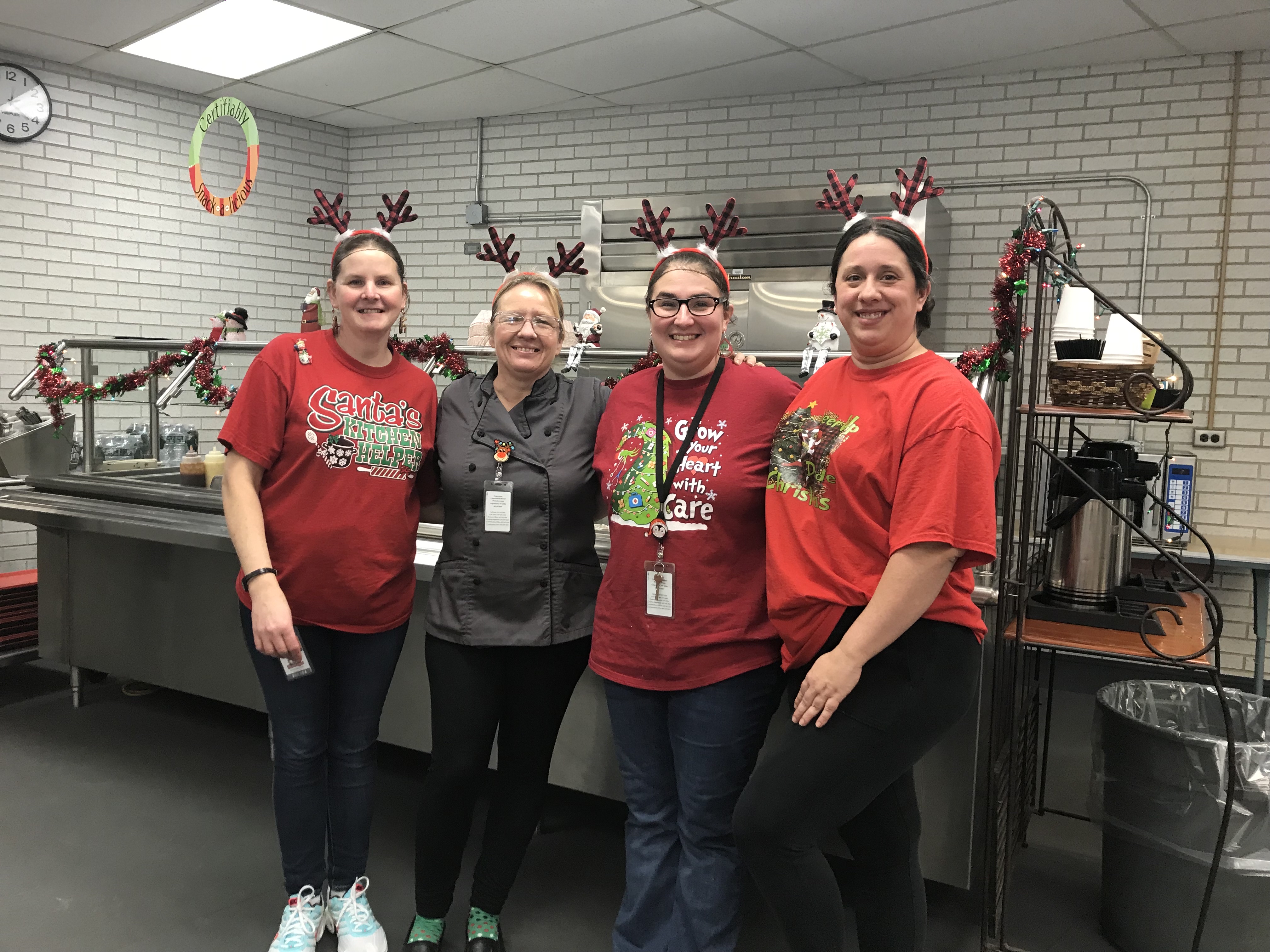 Elementary School Menu Board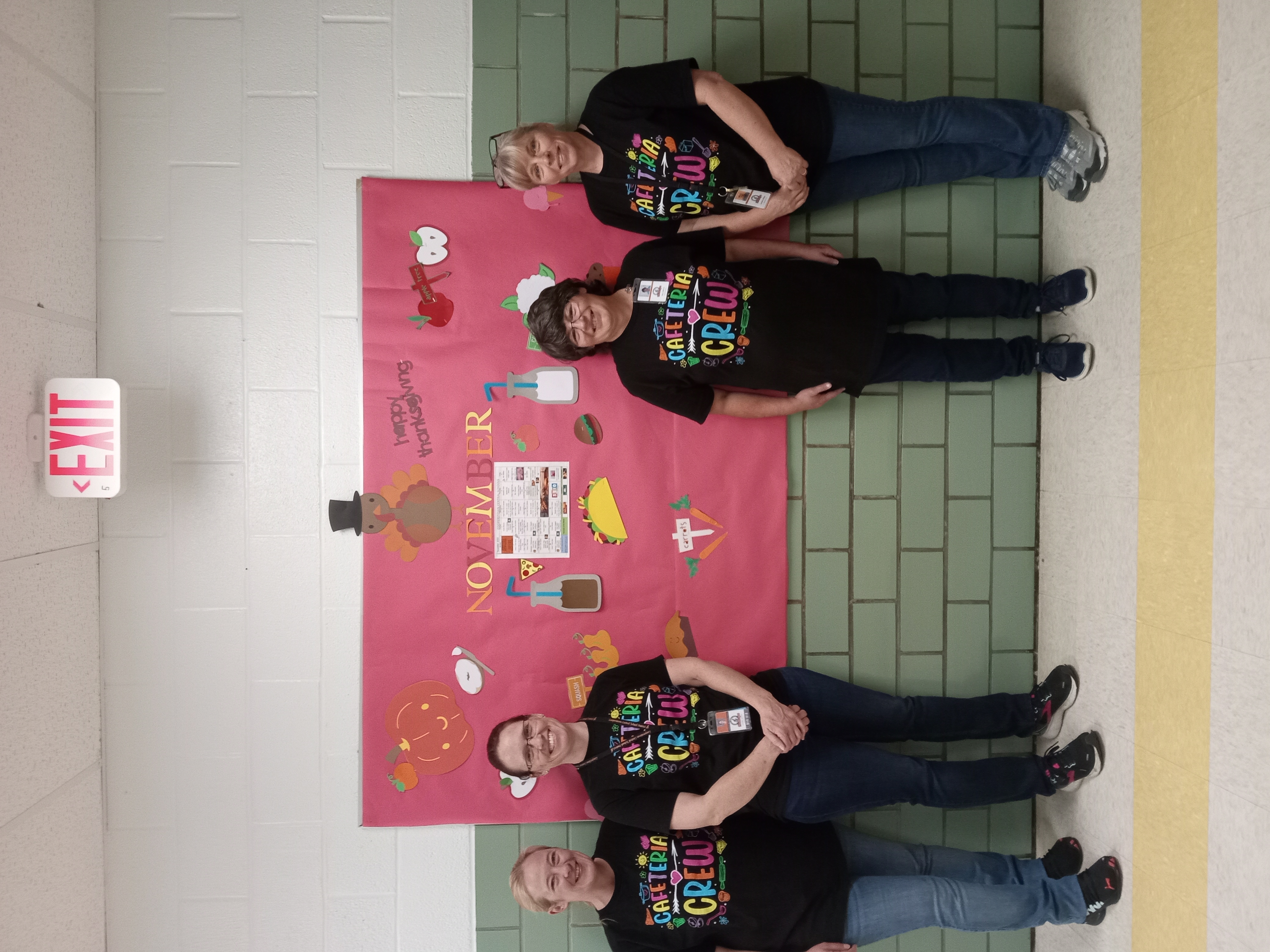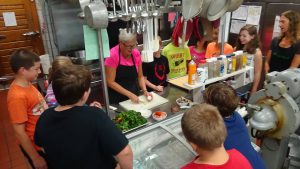 Healthy bodies are one of the keys to achieving healthy minds. To ensure our students are fueled for a full day of learning, breakfast and lunches are served at the elementary and jr./sr. high school. Our Food Services Department operates Cafes in both buildings and focuses on nutrition and healthy eating habits, in collaboration with Bassett Healthcare's School-Based Health Center's 5-2-1-0 program. The cook-manager oversees operations at the Cafes.
Cooperstown CSD utilizes a point-of-sale system that uses a unique number to identify students. Student accounts are funded by cash, check (made out to "Cooperstown Central School District"), or credit/debit card through MySchoolBucks. The cost of meals for 2022-2023 varies based on the student:
Breakfast

Elementary: $1.75

Jr./Sr. High: $2.00

Lunch

Elementary: $2.60

Jr./Sr. High: $3.00

Milk Only
FREE AND REDUCED MEALS AT SCHOOL
The United States Department of Agriculture and New York State understands the importance of healthy meals for growing children. We encourage all Cooperstown Central School District families to apply and see if they qualify for free or reduced-priced meals at school.
Please note that all information received on applications is strictly confidential and students who receive a benefit are never identified, including at the point-of-sale.
MySchoolBucks is the online way to monitor balances, set up purchasing restrictions, and view student purchases. Transactions within MySchoolBucks will synchronize with the point-of-sale system within fifteen minutes of completion.
Students can purchase meals with cash or checks at the register; however, MySchoolBucks is required for debit and credit card transactions. Purchases made with cash or check will be reflected in the purchase history on MySchoolBucks.
HOW DO I ENROLL?
Go to www.myschoolbucks.com and register for your free account.

Add your students using their school name and student ID or birthday (staff should use their employee ID).

Make a payment to your child's account with your credit/debit card or electronic check.
A program fee may apply. You will have the opportunity to review any fees and cancel if you choose before you are charged.
HOW DO I GET ASSISTANCE?
If you have any technical questions or inquiries, please visit www.myschoolbucks.com and click "Help" or call MySchoolBucks Customer Support at 1-855-832-5226.

If you need help finding your child's student number (student ID/lunch number), that can be obtained by calling the Counseling Office or accessing the Student-Guardian Portal. Alternatively, you can use their birthday for verification.
DIETARY RESTRICTIONS AND FOOD ALLERGIES
If your student has dietary restrictions, please communicate this directly to your child's building nurse. Once this information is received, it will be passed to the Food Services department. Our point-of-sale system has allergy alerts built-in, to help provide warnings to cashiers of potential conflicts. This system is not designed to be relied on but does add an additional line of prevention to allergy attacks. If you have any questions or need to update your child's dietary / allergies – please contact the nurse's office in their building.
Egg: mayo, cheese sticks, egg salad, any breaded item, egg noodles, waffles, pancakes, most baked goods

Milk: pancakes, waffles, cheese sticks, cheese, dairy products, yogurt, ranch and Caesar dressings, instant mashed potato, margarine, any breaded item

Peanut or Nut or Tree Nut: peanut butter, baked good made with nuts, coconut or coconut oil. Non-dairy whip topping contains coconut oils. Reminder, check content in cooking oil before baking with it.

Red Dye: pie and cake fillings, frosting, fruit candies, dairy products – such as strawberry milk, ice cream, yogurt, potato chips, cookies, breakfast bars, and gelatin. Reminder, even foods that are not red, may still contain red dye!

Soy: bread, dinner roll, hamburger or hot dog bun, English muffins, saltine or graham crackers, pasta, vegetable oil, wraps, pancakes, waffles, mini-burger, chicken patty, chicken nuggets, hot dog, turkey burger, tuna fish, chicken dark meat strips, fajita chicken strips, taco meat, taco shell, gravy mix, soup base, pizza crust, bagels, cereal corn flakes, raisin bran contains trace of soy, dressing packets, margarine

Wheat: wheat bread and rolls, pizza crust, crackers, saltine or graham, pasta, pancakes, waffles, mini burger, chicken patties, chicken nuggets, turkey burger, chicken dark meat strips, cheese sticks, any breaded item, bagels, soup base, gravy mix, cereal corn flake, raisin bran