EDIT MAIN
School Based Health Center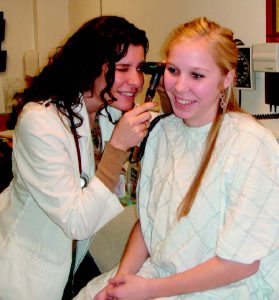 Cooperstown Central School District offers a School Based Health Center at the Elementary School and the Jr./Sr.
High School. A partnership with Bassett Healthcare, the School Based Health Center provides easy access to a full range of quality healthcare services to students in grades kindergarten through 12. Participation in the program is voluntary. Only students who have been enrolled in the program by their parents will be able to receive services.
What services does the School Based Health Centers provide?
Complete physical exams (may be used for athletic eligibility, NYS mandated school physicals, camp, college, working papers)
Diagnosis and treatment of acute (sore throats) and chronic (asthma, diabetes) illnesses
Health education
Referral for emergency and medical specialist care
Health screening (vision, hearing, scoliosis)
Reproductive health care (includes reproductive health education, prescribing contraceptives and treatment of STDs)
Oral screening and dental referrals
First aid
Immunizations
Mental health screening and referrals
Mental health counseling
Child Health Plus information and enrollment assistance
Who are the School Based Health Center staff members?
School Based Health Center staff are all employees of Bassett Healthcare. At Cooperstown Central School, they include:
Nurse Practitioner Courtney Graham
Mental Health Counselor Ann Marie Mill
Ambulatory Office Assistant Keri Butler
LPN Diana Hughes
Important Message for all Seniors
If a senior has received college application forms and is in need of a physician's signature and/or completion of the health history section, please submit the forms to the School Based Health Center at the earliest convenience. The School Based Health Center needs approximately one week to complete the form and verify immunization requirements.
Also, if a senior is in need of a physical exam in order to complete the form, please stop by and make an appointment.
The School Based Health Center can ensure that all of vaccinations are up to date, including the oftentimes required PPD (Mantoux or Tuberculosis test).
Important Message for Children over the Age of 12
It is now recommended that all boys (and girls) receive the HPV vaccine. Genital human papillomavirus is the most common sexually transmitted virus in the United States, affecting more than half of sexually active males and females. For more information, stop by the SBHC or visit the Centers for Disease Control website. As with all vaccines for students under the age of 18, a signed, written consent by a parent/guardian is required