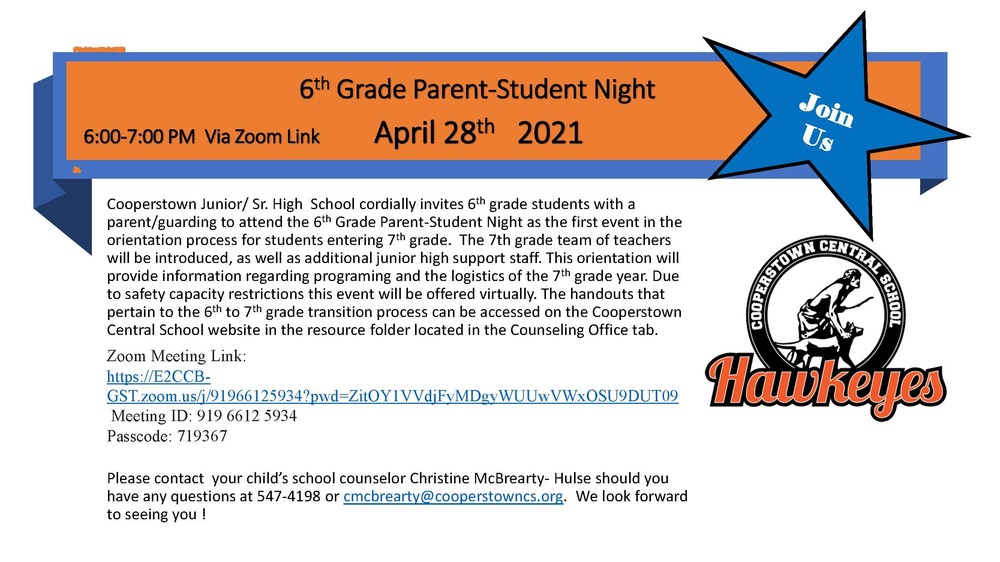 6th Grade Parent-Student Night
Mrs. McBrearty-Hulse
Monday, April 19, 2021
Cooperstown Junior/ Sr. High School cordially invites 6th grade students with a parent/guarding to attend the 6th Grade Parent-Student Night as the first event in the orientation process for students entering 7th grade. The 7th grade team of teachers will be introduced, as well as additional junior high support staff. This orientation will provide information regarding programing and the logistics of the 7th grade year. Due to safety capacity restrictions this event will be offered virtually. The handouts that pertain to the 6th to 7th grade transition process can be accessed on the Cooperstown Central School website in the resource folder located in the Counseling Office tab.
Zoom Meeting Link:
https://E2CCB-GST.zoom.us/j/91966125934?pwd=ZitOY1VVdjFyMDgyWUUwVWxOSU9DUT09
Meeting ID: 919 6612 5934
Passcode: 719367
Please contact your child's school counselor Christine McBrearty- Hulse should you have any questions at 547-4198 or cmcbrearty@cooperstowncs.org. We look forward to seeing you !